Teido is a 16-year-old, male cat. Like many indoor/outdoor cats, he likes to go out at night for adventures and come into the house to sleep during the day. Sunday night he went out like normal, but Monday morning when he came home, something just wasn't right.
After letting him rest a while and going to work, Teido's owner came back at lunch to find him with blood on his front legs, excessive drooling, and a hoarse sounding meow. It seemed as though he was trying to cough something up. His owner called Bemidji Veterinary Hospital and began the approximately 2-hour drive. On the way, Teido was in respiratory distress and his owner was very concerned.
Upon arrival, his breathing had stabilized. The veterinarian began the physical exam by looking in Teido's mouth. He allowed for a quick look, enough for the doctor to notice an abnormality in the back of his mouth. With the assistance of her technician, the doctor was able to use a hemostat and grab the foreign material. To the surprise of everyone in the room, a 3 ½ inch long stick was removed from the throat.
After resolving the most immediately concerning issue, the rest of the physical exam was continued. Teido has a history of urinary blockage at age 8. To prevent re-blockage, he had been kept on a diet that maintains a healthy pH to prevent urinary crystals. He is normally a very good eater, but despite his good appetite, he had been losing weight over the past year. The rest of his exam was fairly normal for his age. Blood work was recommended to further investigate his weight loss.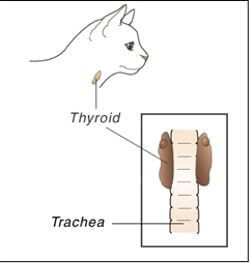 When returning to the exam room with the results of the blood work, Teido was much more relaxed and even sleeping in his carrier. The results showed an elevated thyroid level which led to him being diagnosed as hyperthyroid. Thyroid medication was prescribed and he will need to remain on the medication and continue to recheck the blood work regularly.
When we contacted the owner to check in on Teido, they reported that he is doing much better. His appetite and energy level have increased.
For any small animal emergencies, contact Bemidji Veterinary Hospital at 218-751-2753.
Call us or schedule an appointment online.

Meet with a doctor for an initial exam.

Put a plan together for your pet.